This is why you should consider starting an online store:
eCom businesses are exploding as quickly as the industry is expanding.
Solutions to common pitfalls are continuously explored and improved as customer feedback is easily received and analyzed.
Close interaction with customers through digital platforms is helping businesses develop better intuition and marketing tact.
The progress of eCommerce has flourished in response to many modern workplace values such as process automation and remote work capability. Many aspiring entrepreneurs want the freedom to live their own lives, do work they enjoy and finally stop living paycheck to paycheck.
Essentially, having passive income streams and the ability to manage your own time by your own priorities is the new American Dream.
A Brief Overview – How to Start an Online Store
As we endeavor to see you confidently navigate this exciting journey to becoming your own boss and creating the financial freedom you desire, we'll be discussing the necessary subjects every aspiring eCommerce entrepreneur should be familiar with:
Niche Research
Business Models
Branding
Legal Talk
Store Development
How Shopify Can Help
Marketing Strategies
First, a Winning Niche
If you've ever googled how to pick a business niche, you've seen the general tactic: passion or profit.
Simply put:
A passion niche is one that interests you. The idea is that your excitement for the market/product will energize your business efforts.
A profit niche is one that follows the numbers. The idea is, if the metrics look good, the market is viable and ready for harvesting.
When it comes to opening up your new online store, either strategy can work in your eCommerce business if there's significant demand from the market. Keep in mind, whichever niche you settle in will come to shape many of your future business decisions.
For example, investing in a low volume niche will generate very few sales no matter how often you engage with potential customers. And if you build a business in a niche known for low price points, even a large volume of sales will struggle to produce the profit margins an aspiring entrepreneur needs in order to make a proper living.
As you research products and niches, keep this list of questions on-hand to help you narrow down potentials.
Thoughts on Growth and Long-term Niche Viability:
Is this a niche or product consumers will be purchasing 2 years from now? In five years? Ten? Or is this possibly a fad?
Are potential customers likely to return to this niche, or purchase these products again? Or is this a revolving door of one-time transactions?
Can I find evidence that demonstrates consumer awareness in this niche or product? Or does interest seem to be stalling out?
Trends and hype may sell, but are ultimately short lived. What comes after is usually a flat-lining of sales figures and, eventually, the ceasing heartbeat of lead generation due to lack of interest.
The moral of the story:
Be nice to your future self and invest in a viable niche.
The Price is Right
Another decision that's greatly dependent upon (the values and priorities of) the niche you choose is the price point. How you price products on your website will have a major impact on how lucrative your potential niche could be.
In eCommerce, a term that's used is Average Order Value (AOV). This just means the expected amount of money your customers will spend on an order.
Why it matters:
Low-priced items attract a higher number of buyers – but lower margins.
Similarly – higher priced items will have fewer buyers, but benefit from a greater AOV.
Therefore, you must find a comfortable balance for yourself: It's going to require your continuous effort to generate conversions. If your AOV is $5 (margins likely $1 or less), it will take divine effort for you to generate enough sales to earn even a livable monthly income.
On the other hand:
If you're selling $100 items with a $20 margin, you may only have to generate a few sales a week to start seeing satisfying profits.
Ideally, you should aim for products worth $100 or more. Of course, there are no hard and fast rules here, but, generally, a higher AOV will make all the effort you're investing into your business all the more worthwhile.
An Incentive to Sell High-Priced (or Luxury) Products:
You will be required to put forth the same effort to generate a $5 sale as you will a $400 sale, so why would you invest an effort that generates anything less than a $20 margin?
In order to make the most profit per sale, you're better off focusing on high priced items ($400+) that offer the largest margins in relation to time spent marketing, communicating, fulfilling, etc.
Here's what I mean:
>>> Look for niches with products of value. Research the demand and the available alternatives. Decide if effort required to sell is more or less than the return on each sale. Winning niches will be those still in their infancy, showing noticeable stretches of steady growth.
This doesn't mean you should avoid any well-tread path in the world of eCommerce – however, try to approach opportunities with common sense (God generously gave it to us all) and a little creativity.
For example, if a product can be purchased more affordably and obtained more readily offline, there might be little incentive to market such products online. But maybe there is incentive! (Again, this is where research is key.)
Finding untapped niches will take patience and deliberation. Use tactics like keyword research to gain a more insightful and empirical insight into potential markets. Bottom line, starting an online store selling higher priced items often makes sense.
How to Hunt for Niches
You can search the web for growth patterns in niche markets by using easy-to-learn keyword research techniques. Tools like Google Keyword Planner and Google Trends are free to use.
Google Keyword Planner provides insights into a keyword's performance in the search engines — as well as its monthly search volume, competing keyword combinations and other useful metrics.
While use of the tool is free and only requires a Google account, running an active campaign will reveal more accurate data than the general value ranges a free search provides.
You can try out this free alternative, which boasts itself as being the best, generating up to 750+ long-tail keyword suggestions for every search, and allowing access to the tool without having an account. You can also check out Ahrefs' list of 10 Free Keyword Research Tools that crush Google's Planner.
Google Trends provides year-to-year historical data. If a search term shows a positive trend, you could be on to something.
The trajectory needn't be smooth or incredibly substantial, as long as the overall trend through the years in skyward. This means the niche shows promise and may be a sustainable strategy to explore.
How to Use Keyword Data
If there is strong demand for your potential niche (mainly evidenced by search volume), the idea has viability and you should plan to test the market immediately. And, obviously, if the search volume is low that means it's not an idea worth any time or ad investment, right?
Not so fast. There's the possibility you could discover a relevant but untapped keyword combo within a growing and active market. This might be a small possibility, but the potential is realistic if you decide to learn how to read and interpret the patterns you find in keyword data.
Google Ad Words Keyword Planner Tutorial
Keep Moving Forward
Settling in a niche must always follow solid research and reflection. Don't pick one just because you like it or because you're "feeling good about this one." Take deliberate time to do research and understand what you find. Then plan your business accordingly.
Next, a Solid Business Model
Would-be entrepreneurs encounter a deadly perception when they first enter the world of eCommerce.
Upon first look, the required web development and market research seem too complex for anybody except a professional. However, the eCommerce landscape has become increasingly user-friendly in recent years.
A Model for Success
For example, innovations in software such as Shopify haved helped to create streamlined interactions with all the the moving parts of an eCom business.
Still, the creation of a successful online business cannot be reduced to the technical concerns of a software's user-friendliness. Behind every profitable online store is an important key that must be considered well before signing up for any platform.
So, now that you've zoned in on a market niche – if you haven't, please go back to the first section and get that established before moving on! – let's talk about your next decision, which holds a huge bearing on the future success of your eCommerce store:
How will you handle merchandise?
There are two common merchandise-holding options available for eCommerce stores that we'll discuss in depth. The one you choose will depend on several variables within your unique business model.
To understand why you should store your merchandise where,
there are a few things you need to consider:
BRAND DEVELOPMENT PRIORITIES

PRODUCT SOURCING PRACTICES

UNIQUE BUSINESS GOALS
First of all:
What level of involvement do you hope to have with the expression of your brand?
If you desire to cultivate a personalized brand that connects with its followers, you will likely be more invested in the quality of the brand's presentation and reception than other businesses may be.
Other businesses may be more interested in leveraging every opportunity to boost profit margins. This is likely to mean that the handling and packaging of inventory is a more costly strategy than they'll be willing to adopt.
Either of these scenarios come down to each business owner's unique business motives: What drives your interest and desire for business?
A cause?
A buck?
A solution?
Your guiding light for determining the direction of your business model is to identify whether profit is the end goal of your business, or the means to an end goal.
Handling Strategy #1:
The Case for Dropshipping
In the land of eCommerce, dropshipping is a retail fulfillment business model that frees you, the store owner, from the material responsibility of receiving, holding, boxing and shipping the merchandise being sold in your online store. A third-party company (or multiple companies) will supply your products and ship them directly to your customers. You will market the products and provide the desired online shopping experience, but you won't hold or box the actual products.
The Advantages to Dropshipping
1. Low risk and lower barrier to entry
If you have a small budget, dropshipping could be an ideal strategy for your eCommerce business because, often, you can launch immediately. All you need is a website integrated with a supplier and you can start generating sales within hours. Plus, if you aren't holding any merchandise, you can't incur any loss from sluggish or absent sales.
2. Ease and accessibility
We've established that you can quickly launch an eCommerce business on a low budget, with little to no experience. Dropshipping will allow you to skip common obstacles in running a business (sourcing goods, shipping costs, warehousing, packaging, etc). Your primary responsibility as store owner will be running the website and perfecting your marketing – the suppliers and fulfillment centers will handle the messy details of order fulfillment.
3. Flexibility
First, without the burden of storing your merchandise, you can jump right into your desired niche without risking a large initial investment into products you might not be able to sell. Secondly, you can add large catalogs of new merchandise to your eCommerce store, so you can test products on markets – again, without risking that large upfront investment.
With helpful platforms like Shopify, building the store requires zero technical skill. You will only be required to use simple drag-and-drop tools and maybe flex your creative spirit a little. wink
3 Reasons to Jump This DropShip:
Dropshipping may have bashed down the doors to the modern world of eCommerce, but it's not without its downfalls.
1. Brand protection
If you're all about generating sales and boosting margins, this might not be a killer for you. However, it might be in your future business plans to build a substantial online brand that specializes in unique customer experiences. In that case, you will want to have majority control over how your customers' orders are fulfilled.
It's easy to take care of potential mistakes if order fulfillment is handled in-house. You can reach out directly to your customer yourself and bring immediate peace to the issue.
However, having fulfillment handled by a supplier across the globe essentially means you have zero control over the packaging process, and any mistakes will be reflected on your brand. After all, when your customer receives an empty box or a defective product, that feedback will be coming to your store – not to your supplier.
2. Ethical returns
Your average fulfillment center or dropship supplier will source products from multiple manufacturers – overseeing returns would be a cumbersome and costly process for them. In fact, most dropship platforms won't allow product returns due to the impracticality.
The most practical solution is to do away with returns all together, especially if you're launching your store on a low budget. Keep in mind, a strict no-returns policy will ward off many potential customers. And since many customers will barely take the time to read the Terms and Conditions – likely assuming returns are allowed – it would be unethical not to make this caveat glaringly apparent. A better compromise may be a selective returns policy, exclusively for items that are defective.
If you have received many complaints from customers, it would be wise to keep records of all the returns, keeping track of the suppliers who are frequently sending out defective merchandise so you can replace broken suppliers with companies who are willing to reach your quality thresholds.
3. Missed connections
Finally, dropshipping often means that your merchandise will not be branded. Shipping products from multiple manufacturers across the world makes it difficult to guarantee consistent quality and brand expression. There are some ways to counteract this.
For example, you can request your dropshipping supplier to exclude their promotional materials from the packages they ship to your clients. This way, your customers will be unlikely to affiliate your brand with the source of the merchandise arriving on their doorstep.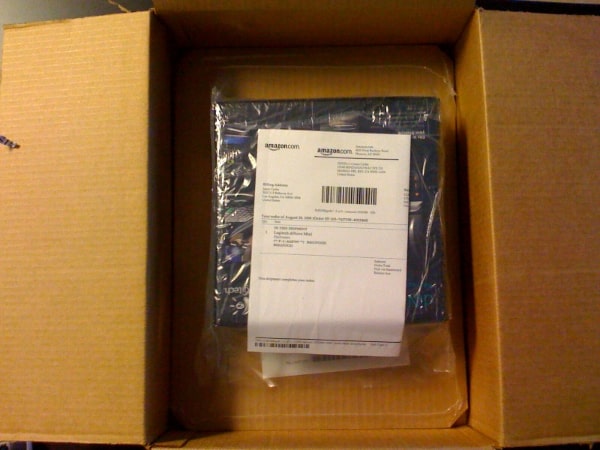 Instead of receiving the name of the supplier or manufacturer, your customers will open a nondescript box without branding or labels. (Better than the alternative.) Some companies may work with you on packaging options, and many offer branded invoices.
Handling Option #2:
The DIY Model
For some brands, allowing a supplier or manufacturer to wrap up the final steps with their customer is more risky than convenient. If you want your business to provide unique and personalized experiences for shoppers from start to finish, one alternative is to hold the merchandise yourself. While more hands-on than the dropshipping, the do-it-yourself model has several clear advantages.
Why it's harder than dropshipping:
1. Holding your own merchandise creates a higher barrier to entry due to the high costs of purchasing and storing inventory. You need to factor in the costs associated with picking and packing the merchandise for shipping. Holding your merchandise will also result in higher overhead and you may be forced to increase your selling prices.
2. Holding merchandise comes with more responsibilities (organization, stock, packing and labeling, etc.) and increases the likelihood that your business will require extra team members as sale volumes increase.
Why it's better than dropshipping:
1. You're able to respond directly to shopper concerns with a higher quality of attention, providing prompt and helpful replies, and positioning yourself as an expert in your niche. This one advantage can greatly increase customer retention rates.
2. With the added expense of shipping and storing products, it might surprise you that carrying your own inventory can boost your profit margins. How?
>>> Enter the Minimum Order Quantity:
(MOQ) is a stipulation pushed by many manufacturers – and often comes with heavily discounted rates. This allows you to obtain a lot of merchandise at extremely low prices, which can then be sold for a very nice margin. Or you can leverage these savings in the name of brand equity, and pass your price advantages on to your shoppers – gaining you a precious, competitive edge in your market.
3. Well-packaged and well-branded products are more desirable to shoppers. When you go the extra mile to design intentional packaging (inserts, business cards, etc.) you are creating cohesion for your brand.
Your efforts to provide a personalized experience for your customers will not be lost on them. Try adding a handwritten note or a QR code customers can use with their next purchase. This is a great way to build customer loyalty and encourage repeat visits.
Alternate Business Models:
The Subscription Box
According to their guide on How to Start a Subscription Box Business, Cratejoy claims,
Subscription commerce offers a stable financial model that can be built around almost every niche – from puzzles to beauty to pets. If there's an existing community around a product or category online, chances are you can build a subscription box around it.
Subscription boxes are one of the most lucrative niches in eCommerce – currently one of the most popular business models due to the recurring revenue built into its method. This is a perfect business model for lifestyle products like shave kits and other beauty products. With this model you will still need to decide how you will hold merchandise.
The Third-Party Fulfillment Center
A fulfillment center handles many tasks like a dropshipping company would, like managing and storing your inventory, picking and packing boxes, etc. However, many of these services are especially for those entrepreneurs selling private label products.
Keep Moving Forward
In the Age of Social, consumers like to share their shopping experiences online with friends and family. Google caught on to the unboxing trend in 2014 and responded by developing updates for their video platform, YouTube, to help content creators monetize unboxing videos.
This consumer pastime could very well ignite a new marketing strategy in your business. With a business model that allows for complete access to the picking and packing process, you can design bold packaging and creative unboxing experiences that resonate with your market in an Instagram-worthy fashion.
Next, a Relevant Brand
What if I said you can run a successful online store without investing much time or effort into building a solid brand or cultivating valuable brand equity.
Not convinced?
It's clear if you're going to build a serious eCommerce business with the oomph to shake up your niche, you'll have to invest in professional-level business branding.
Now, there are many facets to branding a business, and how you approach these processes will shape the effectiveness of your online store for better or worse.
A Market vs. An Audience
The branding process starts with choosing a business name. But picking a one can be a complex (sometimes agonizing) process.
If you have a knack for inciting creativity or inspiration in others, you can try meeting with your team for a short brainstorming session to think up possible names and brand values that would be ideal for your business and its goals.
If the brand is all you, try reflecting on this list of questions by Neil Patel on coming up with The Best Name For Your Brand:
To come up with the perfect brand name, you should first consider who it is you're trying to reach. What is their language? Style? Age? Income? Education? Level of sophistication? Interests? Religious outlook? Brand preferences?
Did you know your brand may not become familiar to a shopper until the fifth or sixth time you engage them? Consider these suggestions to encourage brand cohesion:
1. Make it memorable
Your business name should be easy to pronounce and easy to remember. Try playing with rhyming or alliteration, which will help consumers more readily recognize your brand name.
2. Make it relevant
Even if you want a unique brand name, you should make sure it still holds significance to your niche. Some rare exceptions to this suggestion would be Amazon, Google, Apple, etc. (Maybe it could work.)
3. Make it original
Some entrepreneurs try to play with variations of popular brand names within their niche, but this is not only an unethical practice but a copyright infringement issue. Even if you do it well, your brand will likely come off as just a poor imitation.
4. Make sure it's available
Most shoppers will assume your website is yourbrand.com. If you use another extension like .ca, .us, .de and fail to register the .com version, somebody else might pick it up. Organic traffic that should have been making its way to your online store, would be directed to somebody else's – losing you crucial leads and possibly hurting your brand's image.
5. Make it short
Shorter names are easy to pronounce – and easier to remember.
For a price, you can even search unique business name ideas by category on websites like Brand Bucket, Brandpa, BrandRoot or KillerLaunch. The domain names on these sites have already been claimed and are being resold at a high price.
If you have the kind of budget to splurge on your business' domain name, these sites are ideal hunting ground for cool and "brandable" names at little (mental) cost to you. 😉
Keep Moving Forward
Be patient with the process and trust your instincts. Crowdsource ideas. Use community forums such as Quora to explore creative ideas from people willing to freely offer their experience and knowledge through mini guides and suggestions.
Once you've found the perfect name, the next steps will be 1. registering that name, 2. securing the online domain and 3. designing brand your expression (not only for your eCommerce site, but across all relevant social media channels, as well).
Warning: Don't obsess over a business name. Avoid overthinking and overspending too much time finding that "game changing" brand name. Find a suitable and appropriate name, test it out and move on. If you are spending months figuring out the perfect name for your business, you are throwing away valuable time and wasting potential profits.
Don't rush the process, but also, don't take forever.
Next, a Legitimate Business
It's common for starting entrepreneurs to build a website, partner with a dropshipping service, then start selling products and earning money without registering or incorporating their online business.
This is especially common for people running multiple eCommerce websites. You can easily launch your eCommerce store and start marketing products before the business legalities are completed.
That is the beauty of eCommerce: you can start running your business today without any paperwork.
It is, however, strongly recommended that you take care of the legal aspects of your business.
Primarily, 1. registering or incorporating the business, and 2. getting a sales tax ID or business number.
The main advantage of setting up your eCommerce company an an incorporation is that your business would operate as a separate entity from yourself.
Meaning, if something happens to the business or its assets, you will not be personally liable. Your personal assets will also be fully protected should your business incur any liabilities.
---
Using Quora, I was able to find a helpful but short summary of the differences between registering and incorporating an online store.

You can read it here.
---
The truth is:
Incorporation can be a slow and lengthy process.
From a practical standpoint, it may be wise to wait until you have strong revenue and clear margins before you begin incorporation.
>>> If your online store is garnering a respectable amount of business, it's likely you will run it for the foreseeable future; going through with incorporation will make sense. Many eCommerce businesses, however, will not succeed; in that case, you will have wasted valuable time, effort and money by incorporating right away.
Additionally, when you are generating strong revenue through your website, your business will have enough cash flow to pay for the cost of incorporation, meaning you won't have to pump in additional spending money from external sources.
Online Sales Tax
Generally, once you have an online store running and you are generating sales, there will be a sales tax nexus you will be liable for in any US state where you will have a physical presence. This might accrue from the inventory, employees or the property.
Things might start to get complicated if you have a nexus in more than one state, in which case a sales tax permit must be obtained before you can collect taxes in states where your business is not physically situated.
To register for the sales tax permit, simply visit your state's Department of Revenue website, which will offer you information about the dates or period of dates during which the payments for the sales tax will be due.
Keep Moving Forward
There's a bit of paperwork involved, but this is an important step to complete if you want to run a prosperous and reputable online business.
Finally, an Online Store
Now that you've targeted your market, worked out your business model, nailed down your brand expression and drafted a plan to settle the legal aspects – setting up the store is going to be the easy part. 😊
If you haven't completed each of these steps yet, please review the four previous sections before you start setting up your online store.
Choose Your Web Builder
There are many eCommerce platforms and intuitive web builders that can help you set up an attractive online store.
Here is the number one reason you want to choose Shopify over those other platforms:
1. It's extremely approachable and easy to use, allowing you to start building your online store from pre-made structures and templates, rather than building it "brick by brick."
In today's online space, every tool out there promotes itself as "easy-to-use." Few actually are.

The tough part about being easy-to-use is that a truly friendly platform should be usable from day one, not once you invest hours of your learning about it.

In that manner, anything could be labelled "easy-to-use."

eCommerceGuide.com

Start Building Your Online Store
After completing the very short sign-up process, including a couple questions that seem to gauge your readiness to launch your online store. (And you very well could, if you've been following this guide from the beginning!)
You'll be sent to the Shopify Dashboard where you will find three ways to begin building your online store:
Add products
Customize theme
Add domain
First, we're going to customize our theme (since it's the easiest task to check-off).
1. Pick a Theme
Once you've been redirected to the Themes main page, you have a few more options:
– Upload a previously acquired theme
– Explore free themes
– Browse the theme store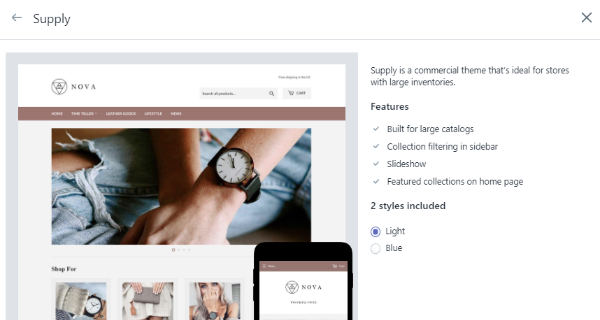 Shopify has developed 10 free themes to help get your store up-and-running as soon as possible. If you have the budget, you can purchase licenses to premium themes in the Shopify store. Browse premium themes by industry or features (grid-style, minimalist, large inventory).
There's even an option available to hire a custom Shopify Theme Developer to uniquely design a theme customized to suit the needs of your business.
2. Customize
There are many apps for Shopify that can increase the versatility of your store. They can also optimize it for both revenue generation and the customer experience. Like our shipping bar app that encourages larger AOV, or our 1-click wishlist that offers valuable insight into product performance.
If you're interested in trying Shopify today, you can give it a try for free for 14 days (no credit card required) to get a feel for how the system works, and then transition into one of their monthly plans.
Shopify Pricing Structure
| | | |
| --- | --- | --- |
| Starting Your Business | Growing Your Business | Scaling Your Business |
| $29 / month | $79 / month | $299 / month |
Click here for more information about Shopify monthly plans.
---
3. Upload Products to Your Online Store
On the left-hand panel of your Dashboard, click on Products then on the Add product button. If you don't have any products, you should choose the option to Find products next to the previous button.
As you add products to your store, double check you are also filling in descriptions for each product, in addition to the meta descriptions. These should be customized for each product and search engine-optimized.
If you're using a Shopify plugin like Oberlo, which lets you find and import products from various suppliers – this will be an extremely simple part of setting up your online store.
Oberlo – Online Store Product Import – Tutorial
4. Build Important Pages
Did you know there's more to your eCommerce site than the product pages?
There's plenty of content and modules to add, shuffle, remove and revise. You can give shoppers a complete profile of your business with a page About Us, or a look into your Policies and Returns, or instructions for how to Contact Us.
Draft a reflective write-up of your company's "mission." Hire a professional copywriter to create content specifically designed to attract shoppers by offering them tasteful bites of your business' brand.
Keep Moving Forward
Extra pages are not only informational (and critical to brand equity) but beneficial for search engine rankings, as well. Leverage them as opportunities to drive additional traffic to your store and present snapshots of your brand to its audience.
Marketing for Lead Generation and Beyond
Opening an online store with effective branding and quality products is, of course, important. But you are also going to need the eyes and hearts of shoppers who are interested and willing to consume what you have to offer.
Attracting customers continually to your store will either cost you money or time — often both. Many businesses use Pay Per Click (PPC) advertising, generating conversions instantly. (If you go this route, make sure you set aside an adequate budget to sustain the entire campaign.)
Organic Traffic
Another tool on your marketing belt is Search Engine Optimization (SEO) which can direct traffic to your online store organically. It is a rather involved and long term strategy, but arguably necessary for any success driving unpaid traffic.
While you can't depend on SEO exclusively for substantial business growth, you should integrate it into an overall marketing plan. This should also include PPC marketing and Social Media marketing.
Pay Per Click Marketing
When it comes to PPC marketing, the best strategy may be to take to Facebook.
This is a low cost, high-converting strategy using tools that can be leveraged to deliver highly targeted campaigns that generate high conversions.
Like Google Adwords, Facebook has powerful targeting features you can use to reach out to certain types of visitors that match specific criteria.
If you have the budget, it's recommended you use AdWords alongside your Facebook PPC campaign. Before Facebook ads were developed, Google Adwords was the default PPC marketing platform. It still remains a potent tool in PPC marketing today.
SEO
SEO is a longer-term content marketing strategy but you would be unwise to ignore its application.
A carefully crafted SEO strategy will "mop up" residual leads your PPC marketing fails to capture.
A perfect tool for building a mailing list or humanizing your brand, SEO delivers the most return for time invested. Not only will you be able to generate leads at little cost, the funnel will keep producing leads indefinitely.
Content Marketing
Content is the reason search began in the first place.

Lee Odden

How to Generate Leads for Your Online Store from Facebook
Let's say you sell specialty goods to a niche market of low carb home cooks and chefs. If you browse Facebook's community, you can find exactly where this audience is hanging out.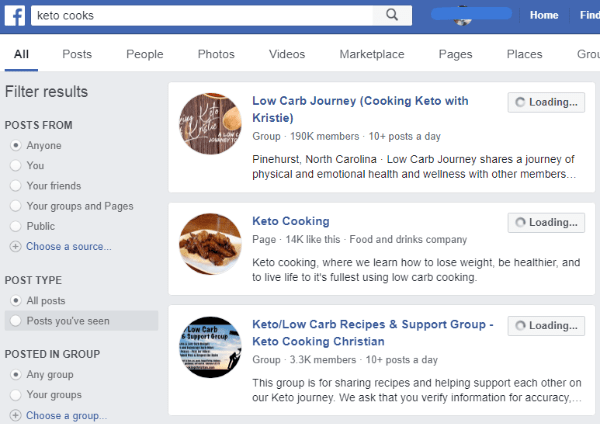 A quick search on the platform for keto cooks reveals a group of 190,000 members on "a journey of physical and emotional health and wellness." A massive network of consumers interested in topics related to your niche!
>>> Engage this community with valuable content and become genuinely interested in their problems and concerns. Then find, create and share with them the very solutions to those problems.
Social Media Marketing
With the worldwide reach of Facebook, Twitter and Instagram, it's difficult to imagine building a respectable online brand without an active social media profile. Apart from the creation of your business pages, you will also need to attract a fanbase and keep them engaged with enticing content.
Our Best Tips for the Beginning Marketer:
Create a content calendar or use apps to curate and schedule social media updates. This way, you can spare a few hours of your weekend to plan your posts for the upcoming week, or the entire month. This will eliminate the stress of having to constantly log in and update.
Content marketing ought to be strategic, consistent and creative if you want it to impact your rankings and generate new leads.
SEO for all content should be metric- and research-driven. Map out a complete list of keywords you're planning to rank for, then design your content around them in order of priority.
Keyword research + content marketing will cast a wide net and maximize the conversion rate on a broad selection of keywords.
The end game is to funnel endless visitors to your website. There really is no limitation except your own willingness.
Keep On Keepin' On!
Above the endless stream of information, try to remember these two keys as you endeavor to open an online store in 2019:
Develop and follow a solid business plan, which is separate from a business model.

(This will be your anchor.)

Do your required research on product viability, niche engagement, etc.

(This will be the rope that ties you to the anchor.)
And if you feel like you could use more guidance navigating this exciting adventure of starting an online store, be sure to check back with ShopStorm often for more content and strategies to help your eCommerce store prosper and succeed.